Arriving in Montana During the Shelter Cycle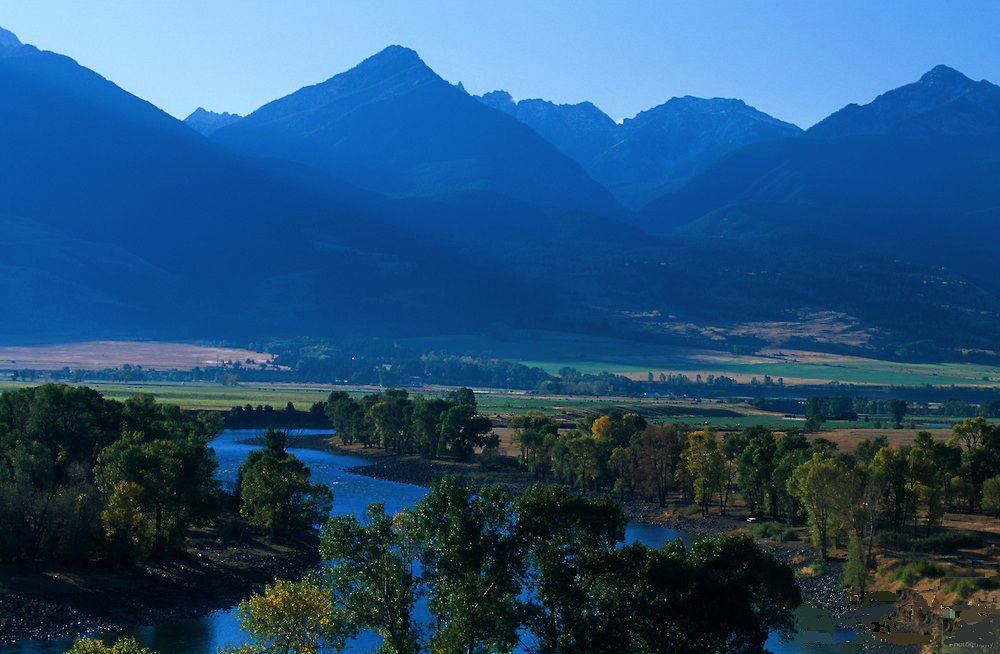 After I returned from the July 1988 summer conference in the Heart at the Inner Retreat I took a drive up to Glastonbury South, as described in a previous piece, I shared. I felt like I had left a part of me there after returning home. I knew now was the time I was to work on moving to Montana. I had been doing Archangel Michael's call to help me get me to my rightful place by January 1987, as he requested us to do through Elizabeth Clare Prophet. Whether I was prompted by the Holy Spirit, or who I believed was Archangel Michael, I do not know, but the push was strong to act. As also mentioned previously, going was not going to be easy to take my children from my first marriage with me because we had a settlement decree that said I could not take the children permanently out-of-state.
First thing I did was start a vigil to the Eastern Lady Master Kuan Yin, the Goddess of Mercy. I asked her to please help me get custody of the children to live with me in Montana. One day I was in my vigil when I heard a voice clearly say to me, "Go to Montana without the children." Of course, that was not what I wanted to hear, and I asked God and Kuan Yin if that was really her, and if this really was God direction, to please give me a sign. The next day I received a call from the couple that introduced me to the Teachings. They were then living in Montana and asked me if I was coming out to Montana any time soon and invited me to stay with them until I found a place. That was my confirmation.
Next, I hired an attorney to try to negotiate with my ex-husband. He was not amicable that I move to Montana with the two children I had custody of, and that meant I had to hire an attorney to assist me and that would cost money I did not have. So I moved out of my apartment and in with another Keeper of the Flame (KOF) who lived in Boca Raton to save rent money to pay for an attorney, and I put my children in day school there for free in exchange for working there. Then I took a newspaper delivery job that started at two a.m. and ended about six a.m. I would come home and get the children ready for school and then go to work with them.
I lived this way for six months. I was only getting on average six hours a sleep a night, and I found the nursery school depressing to work at, and I was always sleepy. Many of the children at the school were hyperactive and the parents packed them terrible lunches that were contributing to their problems. Then the children would only eat a little and the rest would be thrown away. Many would not go to sleep for their nap time, and some of them had to be on prescription drugs. At lunchtime I had to go take a nap in the car. Somehow I made it through those months while the attorneys tried to work out something between us. Eventually, my ex-husband agreed to allow me to have the children with me in Montana in the summer and then at the end of the summer we needed to come to an agreement to determine then who would have custody of who. If we could not come up with an agreement at the end of the summer we would have to go to court.
The day I left for Montana I stopped by to say goodbye to the children, as it was April and I would not get them until June. Just as I was about ready to leave for some reason my ex-husband got very angry and suddenly threw me down and started pounding my head against the ground, all before the children—while his mother and wife just stood there and did nothing. I was in shock, and just picked myself up and left, sustaining a slight whiplash as a result. The only thing I could reason why he was so angry was that I was leaving and going to the Church. It was the Church that separated us, and he no longer could control me once I started the Teachings, and he was very angry with me in the last months we were together before I went to S.U. His mother also hated me, and his wife thought not much better of me because she had all my husband's negativity about me that she was influenced by, yet I was still shocked that they did not attempt to stop him from assaulting me.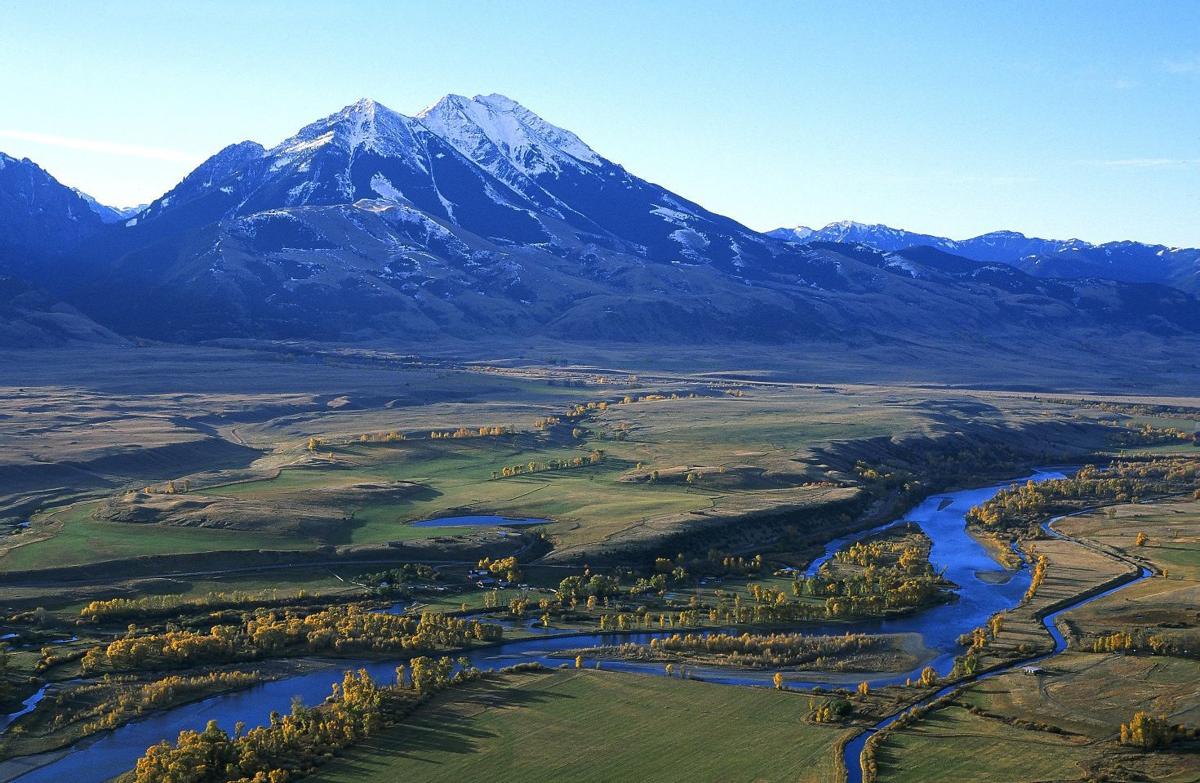 I got to Montana in three and a half days, just in time to attend the Easter conference. Within a month I found a used trailer to buy and moved it to a trailer park at the end of Paradise Valley. The Valley was gorgeous. My heart would sing as I drove through it to reach the Royal Teton Ranch, and eventually to go to work every day in Emigrant, half way down Route 89 heading to the Church headquarters. On each side of the road were mountains, the Absaroka Range to the east and the Gallatin Range to the west, and the Yellowstone River ran between them. I especially loved Emigrant Peak (pictured to the right).
I quickly found a job in Paradise Valley working for a KOF. Most all the employees were Church members, and it was basically the only business in the valley, and the largest with just over a hundred employees. The business made portable massage tables. The owner designed the very first portable table ever made for his wife and the business grew from other people wanted a table for themselves. I met my future husband there, and occasionally we would meet at the xerox machine and chat a moment. He was married and I had no interest in marrying again or taking up a relationship with any man. When I told him I had just purchased a trailer he offered his service to hook up all my connections since he had done that work after leaving S.U. The day he came to help me he stayed afterward chatting with me at the door. I did not invite him in as I thought at any moment he would make the move to leave, but we continued on talking, mostly me listening to him talk, for over an hour. Although I thought nothing of it, apparently he did. The following weekend I woke up to find a letter from him on my trailer door.
It was a letter, to me sharing some personal things about his marriage and opening the door to a greater friendship between us, asking if I would be willing to talk to him about it. In the letter, he explained that he had been thinking about divorcing his wife for months, and even at the Easter conference a month prior (when I had arrived in Montana), he decided that he would finalize their separation and he had just apprised his wife of his decision. He asked me if I felt like talking about this with him, and that he was grateful because he felt like he could freely talk with me about things that he could not openly discuss with others.

In that letter he also explained that he saw me at work one day and what he had realized—in a sudden inner experience—was that I was a woman who would become very important in his life, and that was why he was inspired to write me so openly in this way. I didn't see it at the time, but when I listened to him so long at my door that day it gave him the impression that what he experienced with me was what he felt like he no longer had with his wife—although they got along harmoniously he said. Here was a man that needed to be listened to, and that was very important to him. As with many marriages, the time to talk and listen can go by the wayside in our modern day world with children and both parents working, which was exactly what he was experiencing in his first marriage and we would later experience in ours.

I did write him back, but I was clear throughout my response that I was not looking for a relationship, and most especially not with a married man! But something in his letter touched me—I felt in myself the need to uncover if this man was as loving and kind as he appeared to be. Here was a possibility of being with a spiritual man who belonged to the same church as myself and in a relationship I was not privileged to have experienced up to that point in my life. My second husband came close, but we never lived together and his spirituality did not entail selflessness, which this man appeared to have. He had moved across the world with his family to live and work by the church, appearing to have the same drive I had. Here was a man who signed his letter, "With all the love of my being". Little did he outwardly know to what extent those words, "the love of my being" would impact me and allow me to respond positively to this near-stranger professing his possible love for me from his inner vision and barely knowing me but only slightly on the outer.

So in my response back to him I let this near-stranger know in no uncertain terms that I was a strong woman, even tending to be more masculine in my relationships with my married partners. In my past, the men in my life weren't psychologically strong in their masculinity and I needed a man balanced and one who was not looking for me to balance him out.

A day later I received a response back from him.  He talked more about his marriage break-up and apologized for projecting onto me his old dream of a "perfect love" relationship. He then went on to describe how he had been working since Easter to embody more of the "Alpha" qualities within himself to draw to him the right "Omega". He stated he had a longing for a true relationship that went beyond a romantic relationship and he was not trying to put any matrix upon me. At the time I didn't understand what he was really saying and I know now I was actually spiritually blinded so that I would not consciously take it in, but only register it at the deeper levels of my being. He was telling me he was looking for the "perfect" woman to balance his "not so perfect" masculine and he was not looking for a woman with masculine traits, but an ultra-feminine who would make him appear more masculine. At the time I might have appeared "ultra feminine" with long hair, wearing dresses and feminine clothes, but within I was much stronger than I looked. Therefore, he was also spiritually blinded to not see what I had already written to him, that I was "more masculine" in my marriage relationships! Looking back in retrospect it appears God put us together, and God even gave my husband a vision before we started talking together that I was the "one". One day he passed by my desk and suddenly had the inner confirmation that we were meant to be together and it shook him up so much he had to sit down for a moment.

He was five years younger than me. I had five children and he had two children with his first marriage. Within a month he had moved from North Glastonbury to an apartment in Livingston. We met a few times after that and then he went away for three weeks to take his mother and sister—who were flying in from Denmark—on a once in a lifetime trip to America to tour the West Coast. While away he wrote me several letters filled with remarkably loving statements and visions he had. As I would read them my heart would be on fire. Although I did not "fall" in love with him, my heart gave me the confirmation that this was a man I could love easily. He appeared to be a gentleman, kind and considerate, spiritual, and a man of many talents.

His divorce went quickly, and just as quickly he asked me to marry him. I instantly accepted without hesitation. My answer came from that place of knowing in my Being that this was God's will. I never dreamed it was for anything but having a union with a man of God and to share a life together where we both were serving and devoting our lives to that service. We got married in July and took a one-night honeymoon camping trip, leaving my youngest children with friends. By then I had all the children with me for their summer visit. We spent the rest of the summer hiking with the children and showing them the sights.
While I did not know very much about him, and most certainly had not time to fall in love, my heart told me this was right. He seemed to be a good man, talented and very loving in an unconditional way. So I had no doubts about saying yes to his marriage proposal and we did remain married for twenty years until he fell in love with another young woman and moved in with her.
We were married quickly because I wanted to be married by August for the child custody hearing. The last thing my attorney said to me before I left for Montana was, "Maybe you will meet some rich Montana rancher and be married by the end of the summer!" He was kidding, but serious in a way, that it would really aid my case—and it did. By the end of the summer my ex-husband and I could not come to an agreement so I had to fly to Florida to attend a hearing with a retired judge. My husband came along and his presence was very powerful to convince the judge they would be well taken care of. We had to wait two weeks for his decision, but he ruled in my favor and the two youngest children from that marriage then moved to Montana to live with us. That summer we had a wonderful time with the children hiking and exploring Montana
Then another miracle quickly followed. My husband talked with a man at work and discovered that he shared a piece of property in Glastonbury and the other owner wanted to sell their half. We quickly made an offer and they accepted. It was only five minutes away from where I previously had to turn around on the road the year before on my trip up to South Glastonbury. Both my husband and I went up to high South right after we were married and stood on a lot just down the road from where we would live and there we asked God to please give us a beautiful piece of property with trees, a stream, and a beautiful view. It seemed that first year that whatever we prayed for and in love agreed upon, would manifest in our world. This property already had a road to it, a well and electricity, and all we needed was to create a septic field. It was a gift from heaven! The view was gorgeous, with the building side facing Emigrant Peak, at 11,500 ft., that always seemed to have an ever-changing heavenly appearance depending on the time of year and the weather. We hired the same man who moved my trailer to move it up to the land, which was about 4,500 ft. elevation. The day of the moving it was snowing, but the move went well and we moved right in.
I don't know how we bought it because the Church owned both North and South Glastonbury, and in order to keep control of it and circumvent the State laws, they sold out twenty-acre parcels under two plans. The one was under an "Estate for-years" purchase plan, which enabled the purchaser to receive the right of ownership and possession of a parcel of land for a fixed number of years—either 55 or 99 years from the date of purchase. At the end of that time, the quitclaim kicked in that everyone had to sign before they moved in, and the title and the right of possession automatically reverted to the church, even if you built a house on the land. I believed the man we bought it from had a 55-year plan.
There was also a "life estate" plan where the right of ownership and possession of land was applicable for the duration of one's life. Under the plan, it was possible for children to inherit homes from their parents, but they had to be approved by the Messenger. That meant they had to become KOF or a church communicant. Before buying our land, back when the Church first began to sell lots, you also had to be current on your tithes. We weren't asked anything about our tithes when we bought because my husband had already been approved and living in Glastonbury with his first wife, and I applied as soon as I moved to Montana. I was permitted to buy in Glastonbury but the Messenger questioned how I would be able to afford it. I had no assets except my truck, and the job I had did not earn that much income. Yet I had felt with all my being that I was meant to live in Glastonbury and I was going to get there.

The couple I was staying with had owned a lot for years but never moved there. No one had developed the property, with no well or electric lines established. They said I could buy into it so I hired a dowser to look for a place to dig a well. I was ready with my trailer, yet I kept finding no cooperation from them to start any improvements on the land and I was growing sorely disappointed to the point I felt almost sick. I knew I couldn't do it alone and they were not motivated to move or invest in the property—and never did.
Then one day I was driving to work through Paradise Valley and giving my daily decree to El Morya, the master of the first ray of God Power according to the Ascended Master Teachings when I heard clearly in my mind, "Be patient!" Again, since I was decreeing to El Morya I believed that the voice I heard must be El Morya. I instantly let go of trying to push to get my friend's land developed and let the whole matter go. I also instantly felt well again. It was only a few weeks later that my future husband began to pursue a relationship with me, and few months later when we bought the property. With our combined salaries we had sufficient money to make monthly payments and we did not have to put any money down. I looked back on that direction from "El Morya" as a heavenly being who knew my future and he cared enough to let me know that I only needed to be patient and all would unfold to get me to Glastonbury soon, in a way I never would have imagined. Those experiences with what I believed were heavenly intercessions clearly solidified my belief in the Masters. Some spirit, whether of God I know not, yet outside the physical plane and outside of my consciousness knew my future.
If I had tried to buy Glastonbury property in the early eighties when I first experienced the desire to live there I would have been required to tithe 10% of my income, as well as contribute to the cost of buying the Inner Retreat (aka the Royal Teton Ranch). Everyone who wished to buy into Glastonbury was asked to pay $1,000 toward the September 1983 annual payment as a requirement of the Church's Law of the One. You would also have to pledge to pay an additional $1,000 toward each of the next two annual Inner Retreat payments in 1984 and 1985.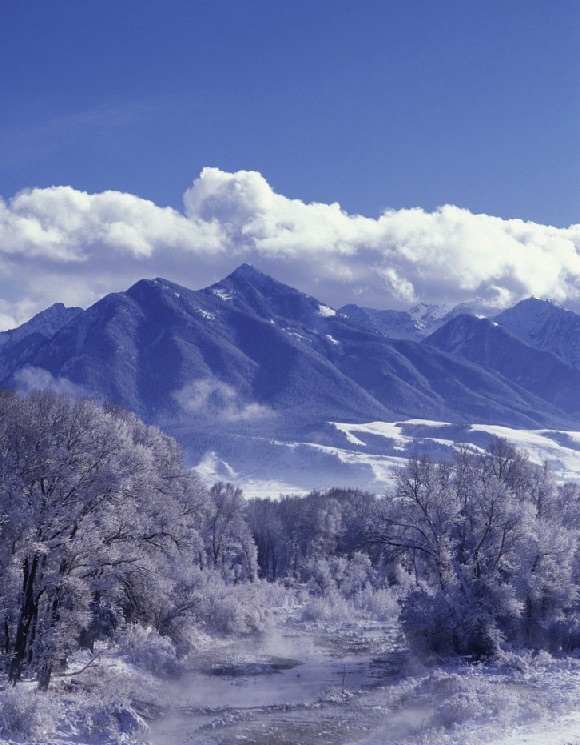 Our Shelter in Glastonbury
The day of the moving the trailer it was snowing, but the move went well and we moved right in. By then I was four months pregnant. The pregnancy came about before we could even discuss contraception methods. I must have gotten pregnant on our honeymoon, utterly oblivious to any chance of conceiving. I knew from past occurrences that God is in control and that often my destiny will bring about a temporary blindness in order to prevent my standing in the way of my destiny.  I am too strong-willed and determined in knowing what I want in life—and where I am going—to make ignorant mistakes. 
So it is at those times destiny takes over so that my normal thinking processes aren't working.  I was well versed and experienced in how to prevent a pregnancy, but this child, a daughter, was going to be a very critical part of our lives and the most difficult of any of my children to raise. Neither one of us wanted any more children, and we would not have had I not been spiritually blinded. I know today that our destiny was to conceive and raise this daughter for her past was strongly connected to my husband according to what I received through my inner communication.

Our next miracle manifested was a shelter for free. After we moved my trailer onto the property in November we heard that we were required to build or belong to a bomb shelter. We sat down and did a two-hour prayer vigil to Kuan Yin. We asked for a shelter to manifest and for her assistance in fulfilling our destiny together. Then my husband heard of a man living in Livingston that was looking for land in Glastonbury to build a shelter on. So we got in touch and he offered to build it if we gave them the land at no cost in exchange for a room for our family. St. Germain, through Elizabeth, had given a dictation in 1987 that we had to prepare for a nuclear war and needed to be in our right place "ere 24 months have passed" ending October 1989. We had moved to Glastonbury after this date, not realizing we were in the midst of a new "updated" D-day for this possible nuclear war.
Tom was the organizer of our shelter and he gathered about thirty people who bought spaces in it. Since my husband had talent building, every night after work he was working on the shelter with a few other men. Montana winters are known to be brutal, with temperatures dipping down to twenty below zero, and occasionally worse if it is a rough winter. Much snow stayed on the ground at our elevation, and of course, they were working in that cold environment starting around December through March.
My husband never believed there was going to be a nuclear bomb dropped on us. He said he had received that inner confirmation within many years ago. So he was reluctant to invest anything but the bear minimum as required by the Church for all Glastonbury residents. I, on the other hand, wanted at least six months of food, and I even bought a Geiger counter and gas masks! While I was not convinced the outcome would be war, I did get caught up in buying preparation items. We had no extra money, to say the least. We had our monthly land payments and I enrolled the children in the Church's Montessori school, which was expensive, and then we had the upcoming midwife expenses.
Included in the shelter cycle preparations was a warning from El Morya, given in a dictation through the Messenger, that we should pray we are not with child during these months when we might have to enter our shelters. Consequently, I was one of the few pregnant women in the community, and by the time we entered the shelters in March I was seven months pregnant. I felt embarrassed the entire pregnancy believing I stood out in appearing to be disobedient for not obeying El Morya's direction. Another burden that resulted from that unexpected pregnancy was that when March came and went and no calamity was forthcoming, the result was that during that time there were no children born in the local community, nor nine months after, but our daughter. Hence, our daughter never had any children her age in Glastonbury and in her Montessori class. She always had to be in with older children. This age difference also caused her to be picked on more than ordinarily by other older children.
One day when she was four I received a call from a concerned parent who witnessed this abuse and wanted me to know, and then another call came from a teacher, who was also concerned. Consequently, I realized the best course of action was to take her out of the school where they were not protecting her. So I withdrew all the children from the Montessori school and put them in the public school for the remainder of the years we were living in Glastonbury.
During the shelter building, we had live-in guests who wanted to be near a shelter in case something happened. I would cook large pots of stew and soups to feed not only our family and the guests but the men working on the shelter if they stayed late. We knew there was a deadline of March for having the shelters done and as hard as we worked, the Church staff worked on building their shelters, as well as other families building in Glastonbury. The shelter bordering our twenty acres was elaborate, while ours was just a simple one, but adequate.
My Husband's Previous Misalignments
My husband was a Danish citizen and found the Teachings in Denmark. He wanted to come to contribute to this "great" mission of work for God, and he felt being close to the headquarters he would not only be able to contribute, but he might even get some recognition for his wisdom, and whatever else he thought he had to contribute. So he and his wife sold everything in 1987 and decided to move to America and be at the Ranch. They entered a work-study program begun that year where you could work on the ranch for nine months in lieu of paying the three-month Summit University tuition. His wife worked in the food processing department and he was assigned to the tree farm because he had a landscaping degree.
While on the tree farm he believed he witnessed a mishandling of the trees donated to the Ranch. Many were dying and he believed not planted correctly as a nursery usually do. He also had to spend all his time cleaning sprinkler heads because they would become frequently clogged by the water sediments, and weeding was constant, which took up most of their time instead of planting trees and landscaping. So he questioned his supervisor but received no response. Nothing got resolved after months and it disturbed him so much that he was continually complaining to others, a cycle he got into repeadedly, before, during and after we separated. He was advised to go to the head of personnel, Marilyn Barrack, also a psychologist in the community and was the "go to" to resolve problems. She advised him to write down his story and she would get the matter taken care of.
To his surprise, he was called into her office with a letter from the Messenger. His supervisor had also read his complaint, then the supervisor gave his side of the story to the Messenger, a common occurrence with over five hundred staff where often only the supervisor or head of the department's point of view was heard personally by the Messenger. Then the Messenger would make a decision and a team of staff would be sent out to bring in the "culprit" to announce to him or her that they, or some family member, had done something wrong and corrective action was being taken—usually children expelled from school or members kicked off staff. These meetings were like tribunals, and one often had no say, the matter was already made up and confirmed by the Messenger, who could not be gainsaid. My husband and his first wife already had experienced that with their children who spoke no English when they first came to America and they had had trouble in school obeying direction. They were accused of not raising their children right. Finally, he got a word in edgewise, where he just stated, "Are you aware my children don't know English well?" Stories abound from ex-staff members of their own "tribunal" experiences—and I had two of my own.
After we were married a year he wanted to get his green card through our marriage and so he applied with the INS. What I did not know is that he had previously bought illegal papers from someone who falsely verified that he had been an agricultural worker to get a green card. He and his wife wanted to stay in America after their SU was finished and they could not afford to stay on staff because they were required to pay their room and board since they were not citizens. With their visa expired they needed to do something and the illegal papers were the only answer, they thought. After he got those papers and filed for a green card he was given one on the new agriculture program created to make illegal aliens legal in America.
When we applied together what he did not know was that they caught the man selling the illegal documents and had the list of all the names of those who had bought the document through him. They not only did not give him a new green card from our marriage, but they took away the one he had. He had to quit his job and look for another way to support not only our family but his children from his first marriage. This began a four-year nightmare that had many grave ramifications.
The letter from the Messenger, dictated through one of her many secretaries told him he was so out-of-alignment and into his ego that he had a "critical-analytical mentality" and "male European pride" and either he get over it or he had to leave the work-study program—and she wanted an answer from him by the next day. Consequently, realizing they could not easily go back to Denmark, he said he surrendered his ego. Although he may have tried, the pride remained but more subtle than ever by the time I married him in 1989. Although we were like strangers, we first got along very well. I did notice he had this "in Denmark, we do it this way" or "we have a better this....". I usually said nothing in response feeling it might be quite normal for one to feel their home country was superior to their adoptive countries. Sometimes he would accidentally speak to me in Danish, and in the first years we were married he would often go around the house talking to himself. One day I asked him why and he said he was "giving a lecture". He also said he wanted to be the Prime Minister of Denmark.
New Age Prideful Spiritual People
Throughout our marriage I believed my husband was so Christ-like and humble, always soft-spoken, and he would be the first one to apologize if we disagreed. His psychology was interesting in that way, and he appeared to me to be a dream come true. Our years together was a great lesson for me to learn how a person, while not manipulating you, as had been done by my mother and first and second husbands, he still felt superior to me, which undermines a marriage relationship and one's own self-esteem. I was always a shy, quiet person and felt I had no wisdom of any importance to contribute to a relationship, plus I believed that men were superior in their wisdom. I don't know where that came from, but I kept having to learn a lesson about that.
With my first husband he was extremely intelligent with a high I.Q. and somewhat of a photographic memory, and my memory was nowhere close to being what his was. So I easily fell into believing he was superior to me in many ways. I thought my second husband, who belonged to my Florida study group, was so spiritual and that somehow made him wise. He could see and hear outside the physical plane and at that time I thought that everyone with those "gifts" was spiritually advanced, and far more advanced than me who had none of those gifts. He was very prideful and domineering, yet I thought he was the most humble person the first year we were dating. I carried no sway in our one-year marriage. He did what he liked and there was no changing his mind. He was also very critical of me and easily put me down, especially that I was not a good housewife. He also had this power of persuasion using a Serpentine logic, and through constant relentless pressure, he could break me down my will because I held him up as superior to me. I still had a lot to learn about controlling powerful people, especially those who thought themselves so superior in wisdom.
New Age groups tend to attract very prideful people. One type of prideful person usually appears very friendly, talkative and yet controlling, always telling someone what to do or how to do something better. If anyone slightly challenged them or attempted to go above their authority, the hidden anger would come out. It stems first from believing one is superior to all those "other so-called religious people" stuck in their dogma and out-dated religiosity, and that you either have the "highest teachings" on the planet, or you have all these "spiritual gifts" or you are so "wise" compared to others. New Agers tend to be either powerful prideful people, or quiet, wise and sometimes also prideful, or very submissive people who follow the powerful ones, and sometimes a combination of these traits. The powerful always rise to the top and comprise about 10%. The quiet wise and prideful about 5%, the truly wise about 5%, and the rest, about 80%, are followers of the other 20%.
My third husband was very submissive and he lacked power, whereby my power (that I warned him I had before we were married) easily overrode his quiet, peaceful nature. Basically, if I wanted something done a certain way that had to do with something we both should make decisions on if we did not agree he would acquiesce to my way rather than saying something. Like many New Agers with the prideful wisdom, he had the pride that he was a superior loving individual (unconditionally loving) who never lost control in anger, and never challenged anyone. Which was another common belief, that everyone should be allowed to do whatever they please. That meant also that no one was supposed to challenge them in what they were doing.
One could write chapters about this mindset of New Agers and why they are attracted to New Age groups because it is in these groups that prideful over-powering individuals rule the communities or groups and that the submissive, prideful, unconditionally loving individuals follow, while believing they should be allowed to do anything they want. Because of that belief, they cannot challenge authority, even if an authority is abusing them or others because then they would not be unconditionally loving and thereby others would have a right to stop them from doing what they want.
My husband also had a way, with a serpentine agenda, to attempt to raise himself above you with superior knowledge and wisdom while appearing very humble. He would tell you that "I used to be that way" but.... and he would explain how he got over it. I witnessed this technique he used continually on people after he became a messenger, and they thought he was so kind and concerned for them. He wanted to appear superior without you knowing that he believed he was superior and knew all the answers, while also appearing unconditionally loving.
The Church's Shelter Cycle
The same year we were married several men, including Edward Francis (Elizabeth's fourth husband), were charged with the illegal purchase of guns using false names. They did not want anyone to know the Church was involved in purchasing weapons, even if they were for defense to be used only in the case of the loss of national defense. This was not something new for them, but in the past, they managed to get away with not being found out. During their Idaho preparedness cycle, the Church bought a lot of guns.
Edward was sentenced to a month in jail and house arrest for three months, which meant he could not go into the shelters when the whole community was told to, although I believe he did go since it was on the church property. The shelter dates came and went, several of them, so we never paid much heed to any real date of something potentially happening, but that was not the case with staff.
Erin Prophet had given a date of March 15, 1990, as the date of possible war starting. Before that date there was an October 1989 date and then a December date that we were to have our shelters done by. Yet the Church shelter was taking a long time to build and stock it because it was made to house 750 staff. Montana newspapers had written before December, "Prophet emphasized she was not predicting war or any other catastrophe for that date — it was just a deadline for preparedness." We in the community believed that as well. Edward Francis later said that the community was given that message until they entered their shelters on March 15th, then they were told the real reason they were entering them. I don't know if our shelter gave us the real reason because if they did I took no heed. We exited the next morning and went about our usual lives believing the crisis was over and now we had a shelter in case we needed it for some other unexpected reason.
Many of us in the community knew less than the outside community because we did not read the papers, and I shunned them because it was fruitless to try to discern whether the newspapers carried the true story or a hyped up one to foment division and make a big story out of little news. Yet the Church was never little news.
Edward Francis was one of those submissive people and he could easily evade the truth with the newspapers and court. He had to be submissive to take living in the same house as Mark Prophet, and eventually marrying Elizabeth. Both Mark and Elizabeth were very strong willed, powerful people who always got what they wanted, and Elizabeth controlled a vast community, supposedly a membership of around 25,000, with 750 staff members at its peak. While Edward was not a power person he was extremely good at what he did—being a lawyer. He easily found his way around any law on the books and of course was involved in the lawsuits defending the Church and Elizabeth. He lied when necessary to "save" the Church.
Then around that time the Messenger's daughter, Moira, who was estranged from her mother and siblings, began writing an expose on the Church with a woman named Kathy Schmook. Before that she had been on the Oprah Winfrey show in 1989 pitted against her sister, Erin, and Church spokesman and vice president, Murray Steinman. I never saw that show until a decade later, as we had no television, but you could see the way Erin and Murray would deny something Moira said or word their answers to make Moira wrong when what she was saying was mostly correct. Murray and Erin both were soft-spoken, quiet people, typical of the "submissive" individuals attracted to the Church. Although Erin had no choice, born to the messengers, Murray did. In Erin's "tell-all" book, The Prophet's Daughter", her submissiveness is easily seen, as well as her quiet rebellion going to bars, drinking and having oral sex, all things forbidden by the Church—especially from her mother. She did not rebel until after she found out her mother had not been truthful by breaking the code herself.
Erin wrote in her book that she was the one who picked the March 15th date because her mother had been using her as a seer for years, and also prepping her to be the new messenger for the Church, when that time would become necessary. Erin was controlled by her mother, even when and how much she could have sex with her husband. After the shelter cycle she left the Church, and her role as seer.
Murray was a very decent man from my observations and contact with him. Yet through his loyalty to the Church he could easily lie or avoid the truth and thus easily took up the position as the Church spokesman. He also testified at the Gregory Mull trial, doing the same kind of talk to make something appear what it was not. Elizabeth also lied at the trial, even under oath, and eventually was caught in one denial and had to retract her previous answer. When Elizabeth retired due to her Alzheimer disease, Murray and Erin fought over custodial care of Elizabeth and eventually they agreed in an out-of-court settlement to share guardianship care of Elizabeth. She lived in his basement apartment until her death in 2009.
My Husband's INS Case
It is a long story of the ups and downs of those years my husband battled the INS, so I will only share the highlights. The summer we got married, so did ten other staff couples in a mass ceremony in the Church. Elizabeth (supposedly with El Morya) arranged many of the marriages, coupling Americans on staff with foreigners who had expired visas. Of course, they all went down to apply with the INS afterward and the Church was already on the hot seat with the Government—and the many new marriages from the same church happening simultaneously sent out red flags.
Meanwhile, a special IRS agent was brought into the main office of INS in Helena to work on "getting the church". There seemed this hatred that abounded from every corner out to get the Church and the people in it. The locals despised us. Certain government agencies saw us as a threat to the peace of Montana or even the nation. Local newspapers constantly had a barrage of negative news about us, blowing up small things into big news.
Over the next couple of years my husband and I had to hire three attorneys: one for my husband's INS case; one for a case against my ex-husband who stopped paying child support due me due to a technicality in our divorce decree conflicting with our new agreement after our child custody hearing; and one to try to negotiate with my husband's ex-wife on child support because he could no longer afford to pay her the full amount with no job.
I gave birth in 1990 and temporarily left my job. We both tried sales jobs, first selling real estate ads, then selling wildlife pictures, then my husband started selling Sears windows. Some weeks we did well and others we made very little. After a few years, my husband took a job helping someone painting houses and finally had a fairly steady income. All his work was self-employed, thereby avoiding having to show a green card, which meant you would have to pay your own FICA and Federal Income tax.
One day the INS came by my trailer with the police to arrest my husband. He was not at home. The investigator stormed through the trailer looking for my husband. He looked and acted like a German gestapo. He asked where my husband was and I answered, "working trying to make an income". The agent shouted, "He is not allowed to work!" I answered, "We have to eat!" And he stormed out saying that was not his problem. They had come to try to deport my husband. After that ,I was worried that they might come by again when my husband was home. They did not, but we decided to leave Montana in a used R.V. we bought the first year we were married, and try to make money selling real estate ads on our own traveling to different cities. That did not work out well and so we stayed at my parents' house in Florida living in the R.V. in their driveway until some neighbors complained about the R.V. in the yard.
Before that complaint, the INS tracked down my husband at my parent's and told him they had a warrant out for his arrest. Our attorney worked out a deal that if he voluntarily returned to Montana and told them everything he knew they would drop the warrant. It was a few days after Christmas and so my husband took a Greyhound bus to Montana and back. Of course, they were not happy, he did not have any "dirt" to reveal about the Church, but at least we thought the warrant was dropped. It was a traumatic time for me, with many harrowing experiences. I knew that if they deported him I probably would not go because I did not speak, nor could I even pronounce Danish words. I also could not take my children out of the country. It would have been the end of our marriage.
Needless to say, we maxed out my credit cards and some days the only way we could eat was to charge the food on my card. Then we started getting calls from creditors to pay our debt. I decided that the only way we could pay off our $15,000 of accumulated debt was to sell our land. I didn't think we would quickly sell, but my husband agreed and I put out an advertisement. Surprisingly, we immediately had an offer from someone who never even came to see it. I sent them pictures and they offered double of what we paid for the land, including the trailer and upgrades we had done. The woman sent a down payment of $15,000 which paid all our debt—except one, my husband's back child support.
For a year he had tried to get his court order changed on his child support due to his unemployment. Meanwhile, the State and Federal laws were changing on court ordered child support. First the State of Montana said they never got my husband's paperwork he sent six months earlier, so he reapplied. Their eventual reply was that they could not handle the case, the state the children resided in (then Kansas) had to handle the case. Kansas said, no, Montana had to handle back child support they were not responsible. I had let my husband try and work it out on his own, though I knew I could have resolved things a lot quicker than he did because I had experience as a legal secretary, and filing court papers. Yet I felt pulled back from doing so, like the guiding force in my life, God, was stopping me.
So by the time he got someone to work on his paperwork neither state said they could change the accrued back child support, which by then amounted to $20,000. He had a court hearing by telephone and a judgment was ordered against him to pay this back support. Thus for the rest of our marriage together, while working as an employee for others, a mandatory amount was withdrawn from his paychecks to pay back this debt. He also could not be a co-signer on any loans during our marriage, which meant to buy a house I had to qualify on my income only, which income was far less than he made at his jobs. Yet over the years I bought three homes, and a duplex for investment and rental, on my income only. It was difficult, but I persevered and even get some of those non-traditional loans, like the controversial "stated income" loan that helped bring about the mortgage crisis and housing market crash that started in 2007. Yet I bought our last house in 2008 during that slump, not realizing there was a mortgage crisis, and I qualified for a $300,000 loan after raising $100,000 and putting another $100,000 of our own so that I could start a school.
A year after the meeting with INS while we were down in Florida, they started charges against my husband again and he had to go to court, although they had an agreement not to arrest him. Eventually, the "gestapo" agent was forced to resign and take an early retirement and my husband reapplied for a green card and finally got it. Four years had gone by since his card had been taken away. We believed the agent mishandled his case, and also many other cases that involved Church members, but in the end the agent could not find anything against the Church. It had cost the INS much money with little or no results. Somehow another agent had stepped in with my husband's case and worked out a plea bargain for my husband so that the case would be closed. By the end of his INS case their file on him was over two inches thick.
By the time the case was finally resolved it was 1995. We started a new life in North Glastonbury. The Church had just gotten over their fuel spill from leaking fuel tanks they put in for their shelter. Moira had backed out of publishing the book with Schmook, but the book got published without her and out by the end of 1990. The Church decrees did not prevent the book from being published, although most members did not read it. My husband's decrees had not prevented him from being charged a felony and losing his green card for four years. He had been giving the decree to a master called, Surya, who promised during a dictation that anything asked of him would be resolved. My husband realized, after giving that decree daily for almost a year, maybe he should try something else.
We had made it through harrowing years, and the Church had survived its many crises. Meanwhile, hidden behind the scenes, the Messenger was losing her memory, had seizures few outside of the core staff even knew she had, and life was moving on with a semblance of normality. Things were about to change in my personal life, and within a few years there would be a complete makeover for the Church organization.
(...to be continued)
__________________________________
Next in series: After the Failed Prophecies